Tuesday, the second day of CNY, spent my night @
Sunset Bistro
.
*look at the guy behind me, he's trying to get your attention. wtf*
First of all, mum dropped me &
Jane
to Sunset Bistro. Uhh yeah, just two of us first, cause we're going to surprise them later, them as in the brother,
Vic, Mel
&
Cal
. heh*
my Darling, She just came back from KL. welcome back!! Hugs*
Next, bumped into
jieloon
& a bunch of friends when we first reached.
What a coincidence?.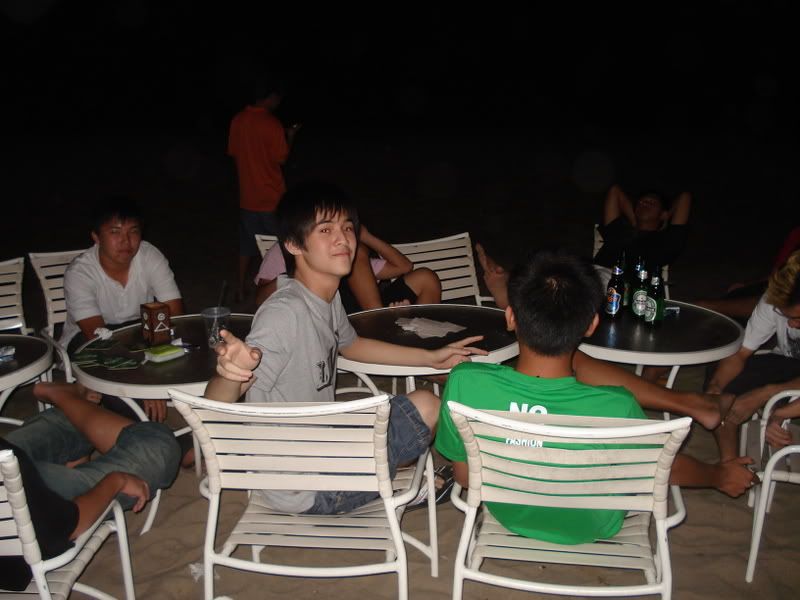 Hmmm, guess we've too mix w/ them before The brother's arrival. Some pictures w/ them,
Tett, Tsu Sheng, Me, Jieloon
&
Jane
.
Another shoot, w/
davison
.
Blurrrr*
Well, as you people can see we're gambling. Nothing better to do besides gambling right? heh*
By the way
,
after a while
Vivian
came & surprised us w/ her bf along. Aww its been so long never see you after the weekends.
Uhh, the past weekends? just about few days ago. Oh, we used to see each other everyday. Hah*
The sweet couple.
The sweet friends, i cherish.
Here comes w/ some picture of the night.
Tett
&
Jack
Fung
,
who won my money
. wtf.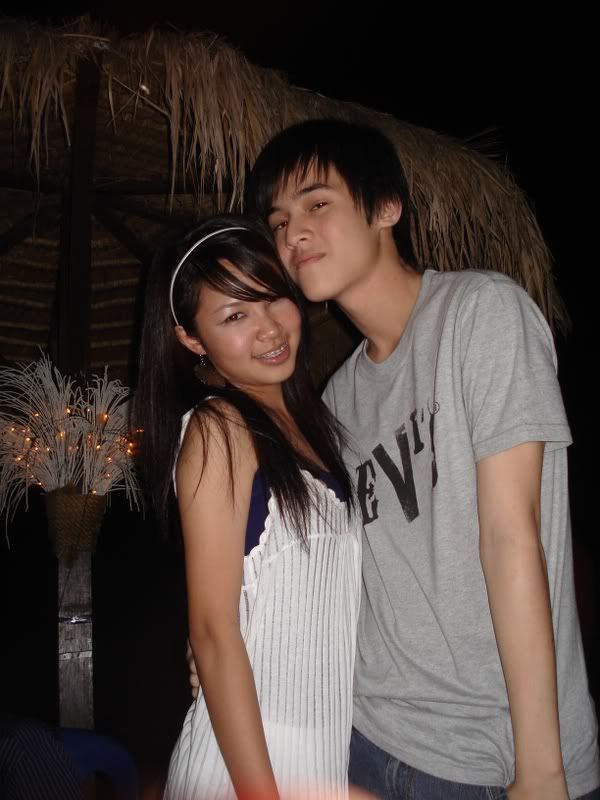 Mr Lee Jie Loon
,
the sing-sian
(singapore, malaysian)
Lin Hui
,
my ten years friend since primary
. *proud of it
Ren Chuan
aka Xiao Ke Ai
Calvin
, the little man
Jane
, my full time darling.
Okay don't ask me why i post this picture, i'm just simply love the peace sign on the T-shirt, & see what he's showing to us anyway. Hahahaha wtf.
The Atap Roof Top, very random. wtf.
Midnight time, left Sunset Bistro after a couples of hours. Anyway met Cho Chuan's sis & her boyfriend before we left.
What a coincidence ag
ain
.
Oh, some inside joke happened during the journey back to town,
XiaoKeAi :
Hey, i saw Vivian just now. She w
as w/ her boyfriend right?
(yes, obviously she is, they were like holding hands together.)
JackSoo :
Oh, both of them are still together?. Haven't break meh?
(Wtf, what a jealous freak.)
JaneOng :
Of course, you thought ever
yone like us meh?
(Like us? What do they mean huh?)
To make things clear, Jane & Jack were together for two years, it wasn't short period though.
But anyway things these day happened to be pretty ridiculous, Ex-couple hanging together talking bout some other couples?. wtf.
The hooked up,
bf/gf
Wtf wtf.
Later on, went Pama hawker centre after dropping Jieloon home.
Starving? So we ate something.
F-O-O-D!!
Xiao Ke ai dropped us home after supper,
Thanks for the ride although its kinda dangerous,
it
risk our life man.
hah*
Buckle up your seat belts whenever you're on your ride.
Awww a little kiss kiss to you. heh*
Goodbye & Goodnight,
got to go for another post,
Btw, i'm on the phone w/ someone. *cough cough*
Oh my 2009 CNY is such a bore, hope that i'll get to meet some friends rather than staying @ home doing this. God, gimme some interesting part for my entire CNY, okay? Amen.
Well, for tomorrow, relatives coming back all the way from KL, can't wait to see them. ;]
Much Love, P.